Gallery (and video): Experience this giant cat head that shoots lasers and projects art.
By Jonathan M. Gitlin, published on Ars Technica
WASHINGTON, D.C.— The Internet is a pretty wonderful thing. Originally conceived as a decentralized command and control network able to withstand a (partial) nuclear holocaust, its uses have evolved way, way past those Cold War origins. Of particular note, it's become a digital home for information and ideas... many of which involve cats.
Pictures of cats, videos of cats; if you can name it and it's got a cat involved, you'll probably find it online—I call this rule 35. As any cat owner knows, almost nothing pairs better with cats than lasers. That's particularly evident inside a historic warehouse in Washington, DC, which for two nights this week played host to Laser Cat.
Organized by Washington Project for the Arts and designed by Barcelona-based Hungry Castle, Laser Cat is an Internet-enabled work of art that—obviously—shoots lasers from its eyes and projects crowd-sourced art, all accompanied by a soundtrack from several local DJs. How on Earth could we resist the opportunity to meet Laser Cat? We couldn't. Ars braved a particularly chilly Washington evening to meet Laser Cat and learn more.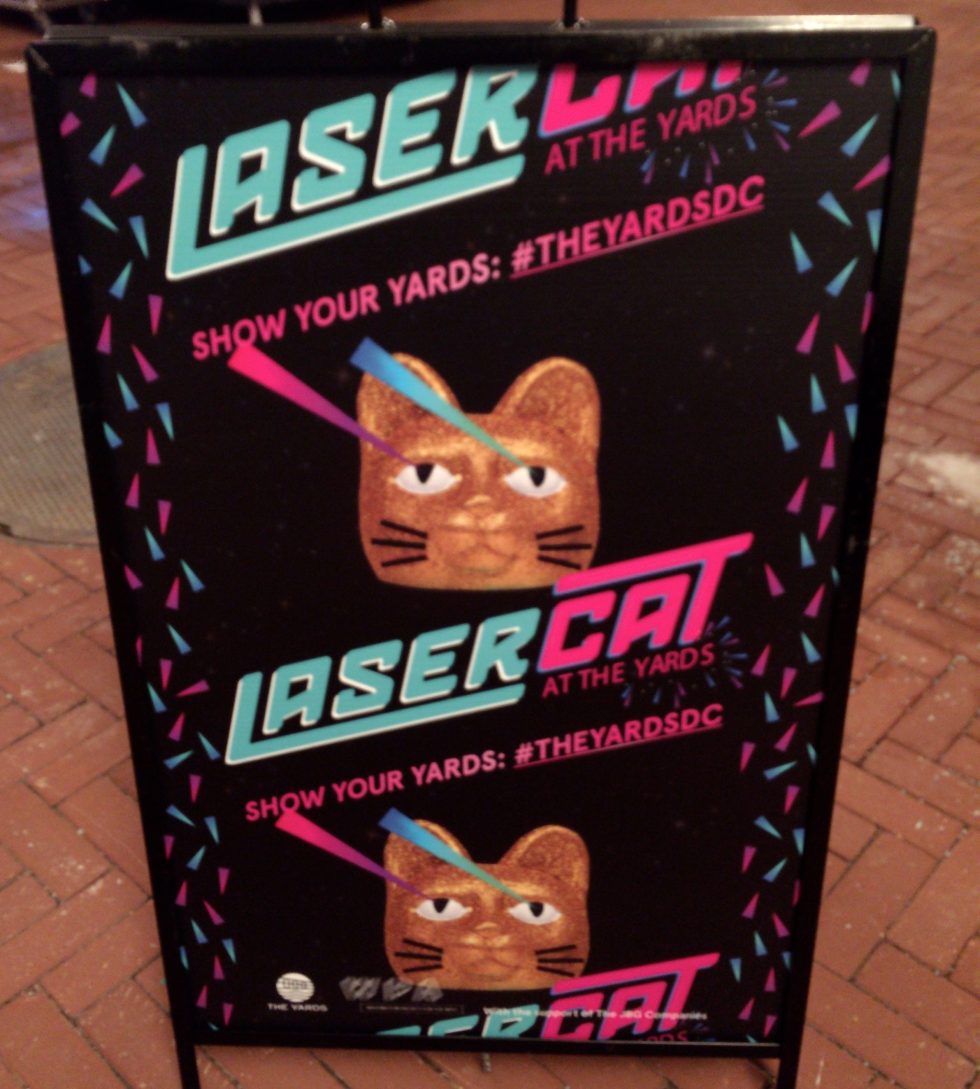 Laser Cat at the Yards, thanks to Washington Project for the Arts.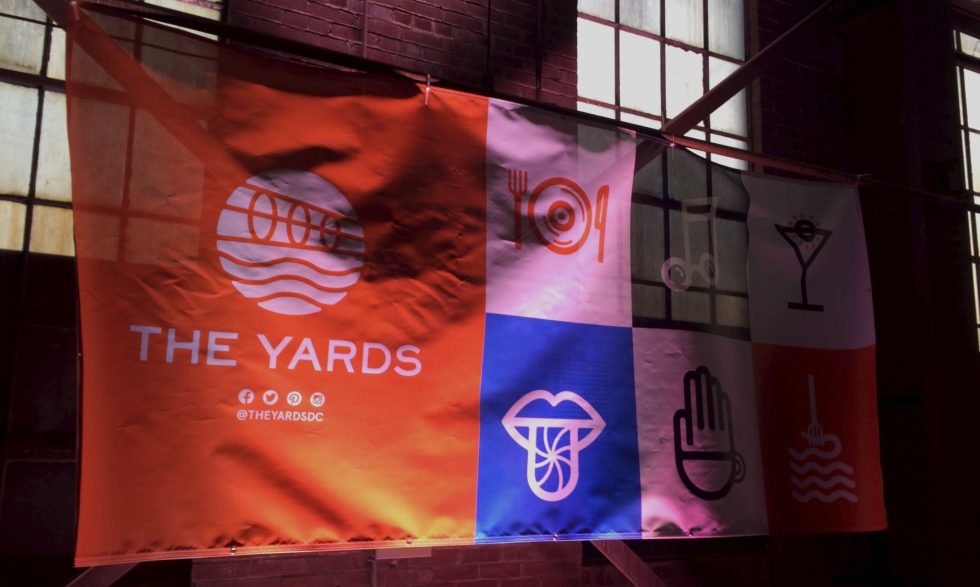 The Yards in SW Washington (near the ballpark) played host to Laser Cat for its DC visit.
We asked where the inspiration for Laser Cat came from. According to Glass, "​Laser Cat was inspired by the Internet meme with same title. We made him gold like the lucky Chinese cats for good luck. So far it's working.​"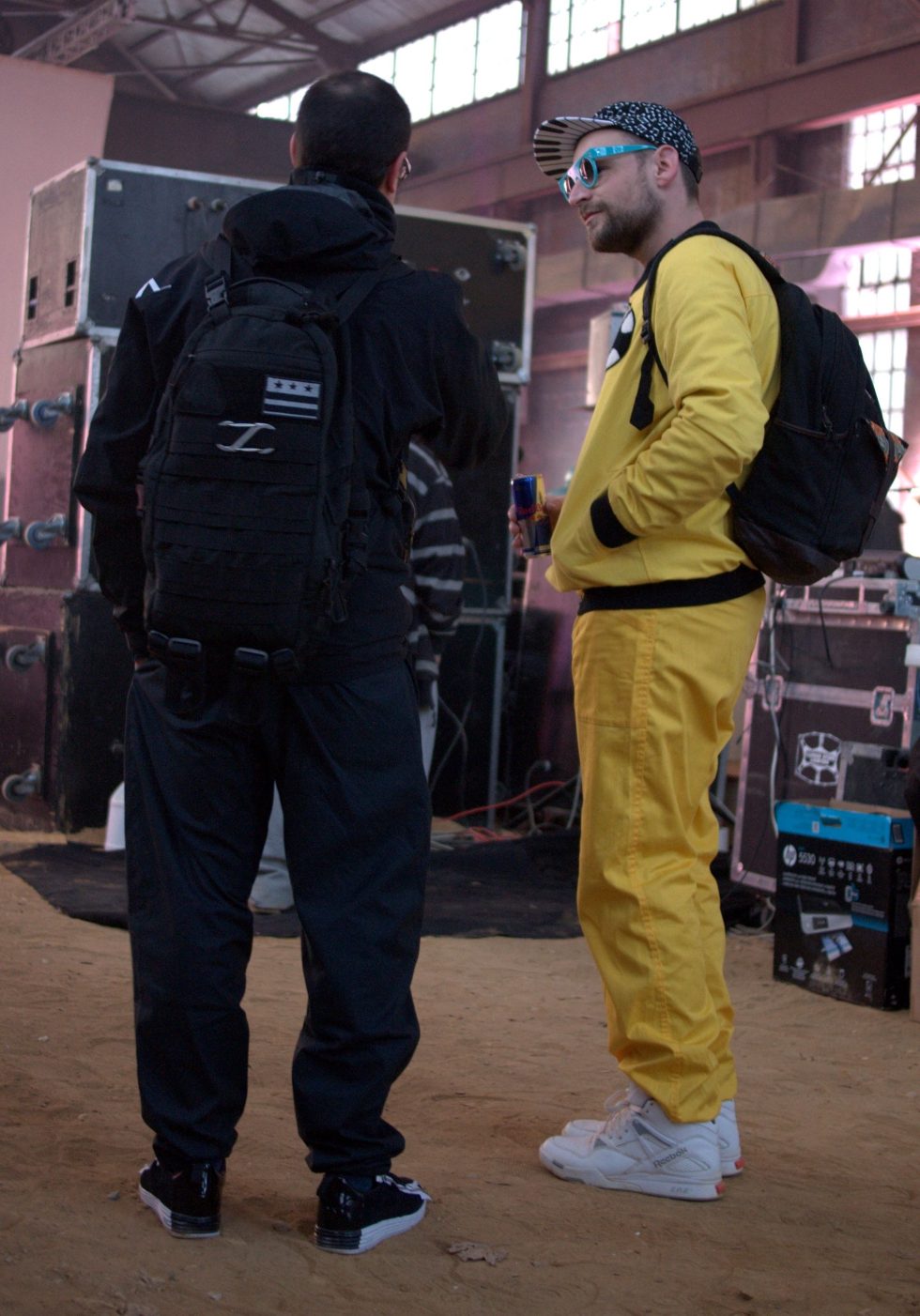 Laser Cat co-creator Dave Glass chatting with Ars.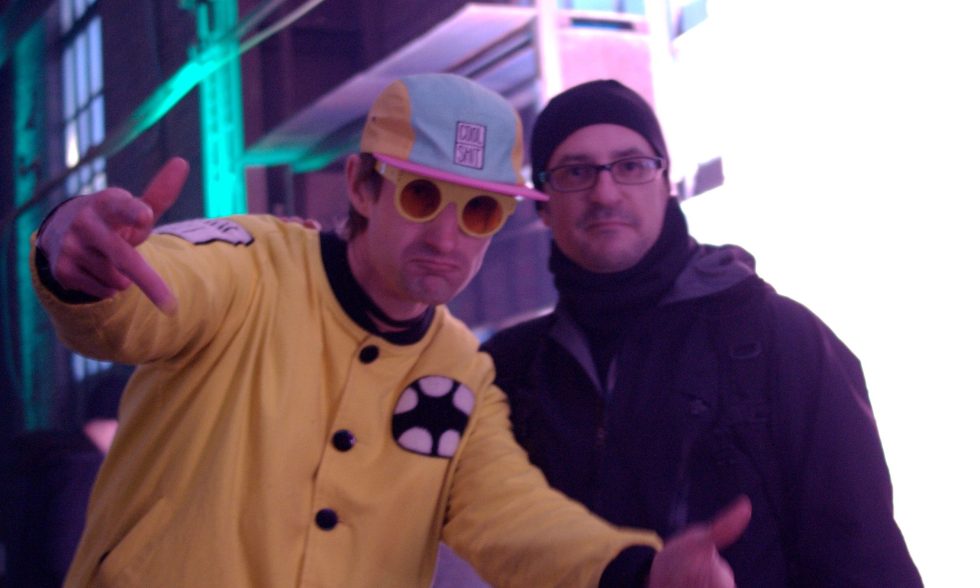 Laser Cat's other co-creator, Killian Cooper.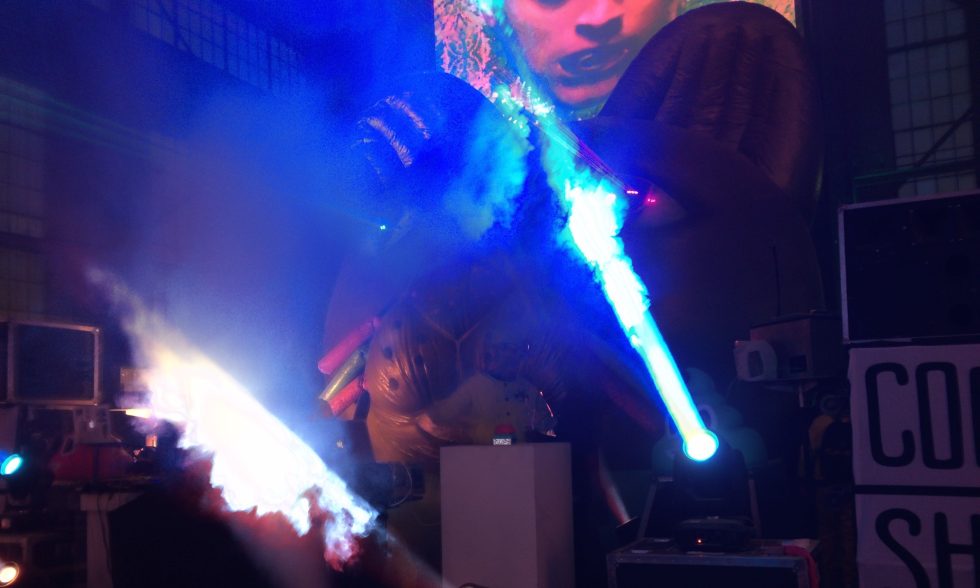 Laser Cat warms up.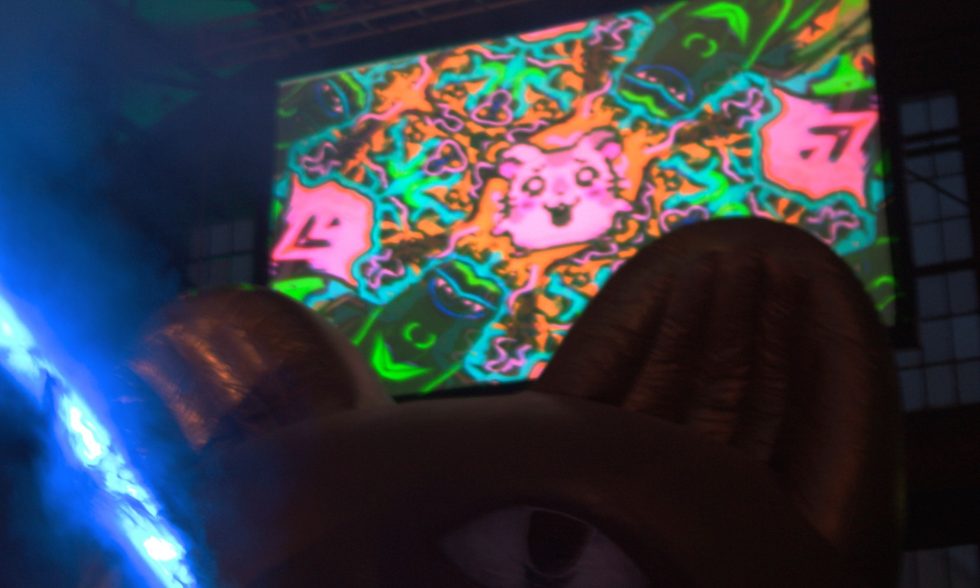 Fan-submitted art. The public submits still images, which Laser Cat tweaks and animates (OK, Dave and Killian do some work too).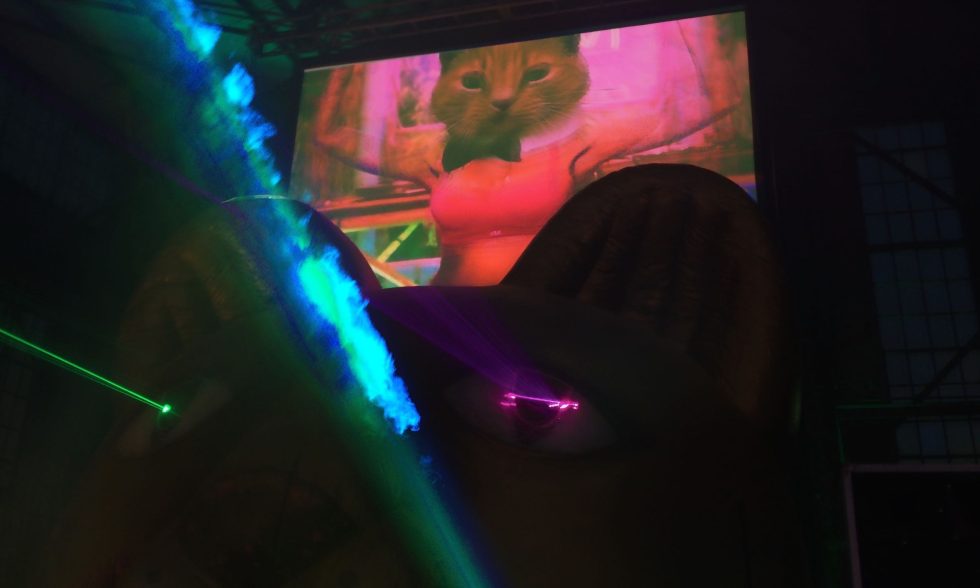 A fair bit of the art was cat-themed.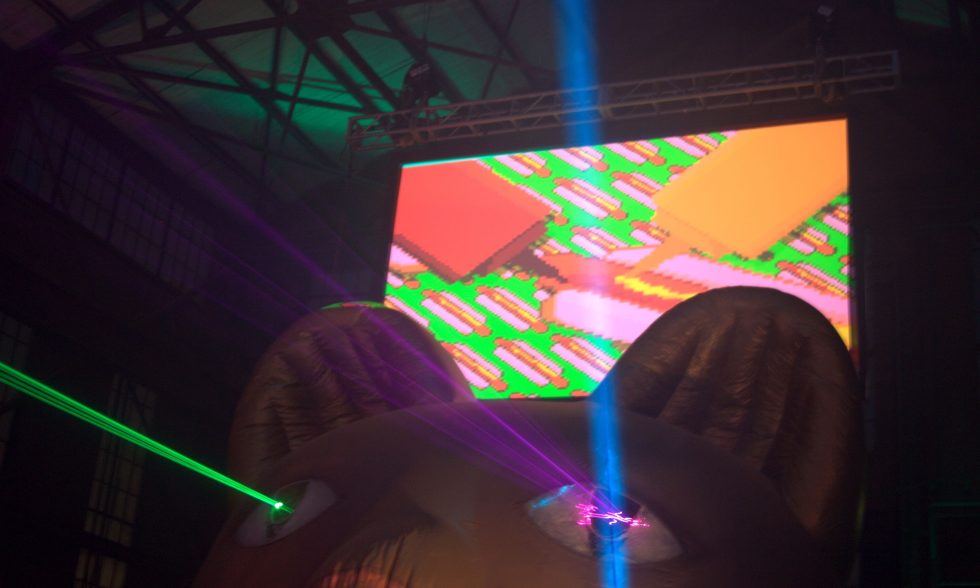 Animated hot dog art.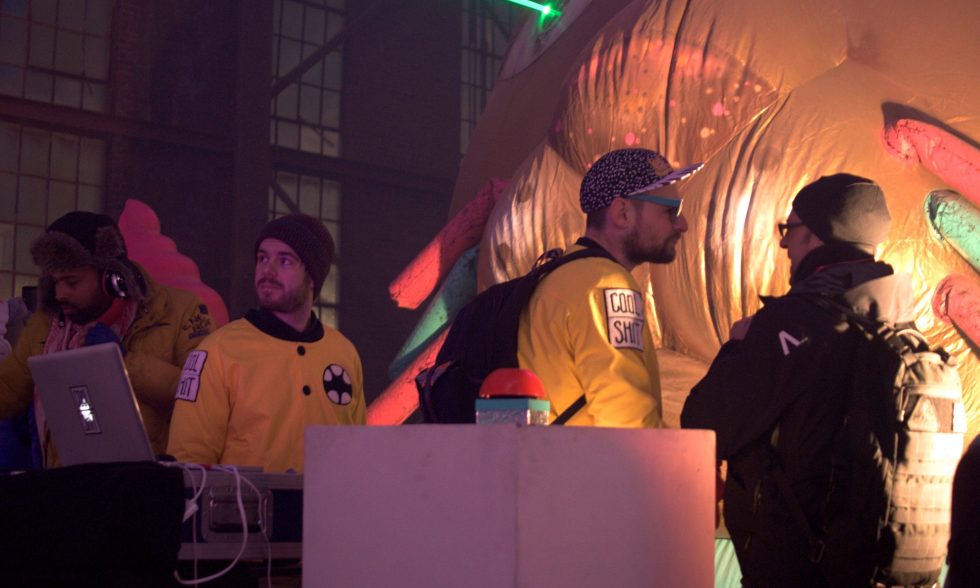 Dave Glass explaining to Ars how Laser Cat works. You can see the art-changing button in the foreground.
(Photos by Elle Cayabyab Gitlin. More Photos and Video Clip HERE)
Dave Glass, one half of the Hungry Castle duo, explained how the whole thing works. "First, people feed their personal art to LC via his homemade website feedlasercat.com," Glass said. "He digests it and spins it through his laser algorithms. He then projects it through his laser beam eyeballs and 20k lumen brain projector onto buildings and occasionally into space."
Laser Cat debuted last year in Miami, FL, and it has since appeared in cities like Barcelona. During that time, more than 17,000 pieces of art have been uploaded into Laser Cat's memory banks. It's mainly images, according to Glass, so he and co-creator Killian Cooper tweak these and animate them with the help of the cat's algorithms. Next to the DJ's equipment during an event is a large button, which attendees can use to change the art that's being projected. The overall effect was pretty wonderful, taking our reporter back to his (somewhat misspent) youth. If Laser Cat happens to come to your town, you simply owe it to yourself, and the Internet, to check it out.
Sportswear Design
nike fashion